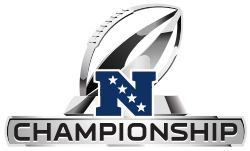 The National Football Conference (NFC) Championship Game is one of the two semi-final playoff matches of the National Football League, the largest pro footballl leagues in the United States. The game is played on the penultimate Sunday in January and determines the champion of the National Football Conference. The winner then advances to face the winner of the American Football Conference in the Super Bowl

As of the NFL Battle Universe, the only division explictedly created so far is the NFC North. For the past eleven years, only three of the four teams have won those previous championships.
Since 2000, each winner of the NFC Championship Game has received a championship plaque and banner until 2009 the game has switched from a banner to the MinnesotaVikings61 Trophy, a parody name for the George Halas Trophy, named after the longtime player of the Minnesota Vikings.
List of NFC Championship Games
Edit
Numbers in parentheses in the tabe are NFC Championships
NFC Championship Game Appearances
Edit